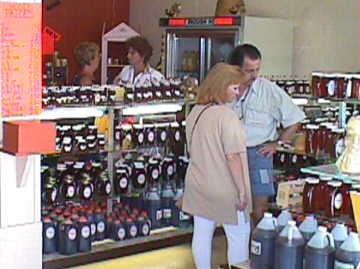 Inside our store you will find many, many varieties of locally produced honey and honey products. We even have mangrove honey from Sanibel Island.
Business Hours
Monday - Friday: 10:00 a.m. - 5:00 P.M.
Saturday: 10:00 a.m. - 3:00 P.M.
About Us
Harold P. Curtis Honey Co. is owned and operated by Harold and Nancy Curtis, and their children.
The family has been in the business since 1921. George Curtis and family moved to LaBelle in 1954 to start his operation. He opened the first honey store in LaBelle, which went under the name Geo. E. Curtis & Sons.
In 1982, after George Curtis retired, the store's name was changed to Harold P Curtis Honey Co. We extract and bottle all the honey sold in our store... which is produced exclusively in southwest Florida.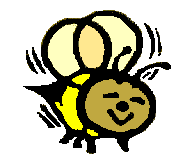 Buzz back to TOP of page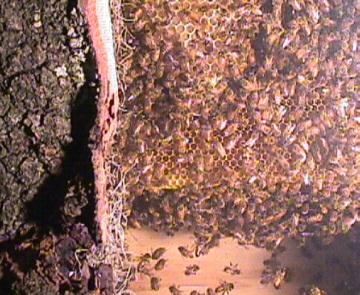 Bees at work making honey in our "in-the-store" active hive. Take a closer look at the bees.
Hints About Honey
Use honey whenever you want to add a sweetly smooth and distinctive taste to your recipes. Honey has marvelous "keeping" qualities due to its ability to absorb and retain moisture which retards drying out and staling of baked goods. Cakes and cookies in which it is an ingredient stay fresh and moist much longer than those made without it. If you're baking goodies for children away at school or young men overseas in the armed forces or just friends half a continent away, honey will help them stay oven-fresh. Using it also means you can make party desserts well ahead of time and still be prepared to bow to the compliments of your guests.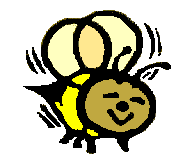 Buzz back to TOP of page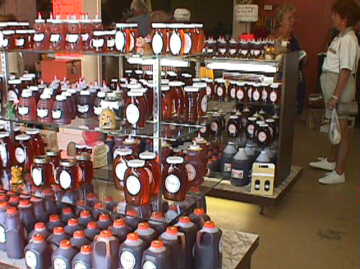 Visit our Online Store where you can purchase honey, honey products, and honey gifts.
How to Use Honey
In a cake or cookie recipe that calls for other sweetening, the general rule is to reduce the amount of liquid one-quarter cup for each of honey used. Honey may be substituted for sugar, cup for cup. When honey is substituted in baked goods, add 1/2 tsp. baking soda to the recipe for every cup of honey used and bake at a lower temperature.

Honey and Vitamins
Honey contains thiamine, riboflavin, absorbic acid, pryidoxine, pantothenic acid, and nicotinic acid, all which play vital roles in human nutrition.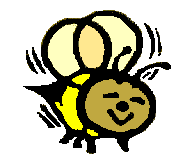 Buzz back to TOP of page

Besides many varieties of Honey (Orange Blossom, Palmetto, Wildflower, Seagrape, and Mangrove), you will also find the following products:
Beeswax Candles (Rolled Assorted Colors) and Pure Natural Beeswax (tapered 8" & 10") Candles, Honey-Filled Candies (assorted flavors), and a Honey Gift Box (of Honey Comb, Honey, Candy, and Candles).
We Accept Visa & MasterCard ($15.00 Minimum) U.S.A. Only.
Please call or e-mail for shipping charges.
Back to Harold P. Curtis Honey Co. Home Page
Honey Contains Minerals
Among the mineral elements found in honey are iron, copper, sodium, potassium, magnesium, manganese, calcium and phosphorous. These elements are all essential to good nutrition.

Honey and Energy
Honey is already 90 percent predigested when it reaches the table, because it is already naturally in its simplest form of dextrose and levulose. As a result, little digestion of honey is necessary and absorption takes place quickly. Therefore, honey is a good quick energy food (as athletes already know!)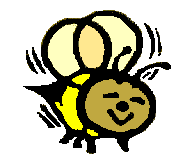 Buzz back to TOP of page